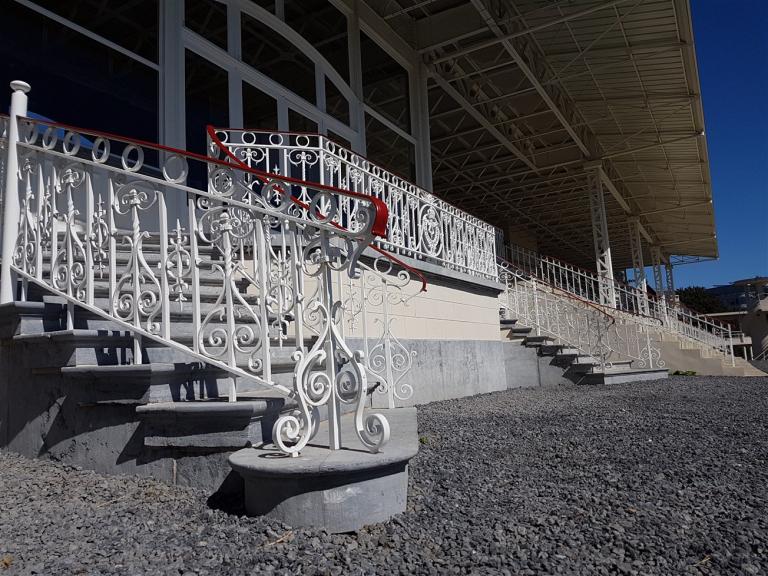 Hippodrome
The Brussels-Capital Region has granted the SAU a long lease of 99 years on the Uccle-Boitsfort Hippodrome, which covers an area of 32.5 hectares and includes 29 buildings.
The SAU has two roles: firstly, to restore the site's main historic buildings; and secondly, to organise the development of the site, which is regarded both as a gateway to the Sonian forest and as a recreational green space for family use. This must be done in a manner consistent with its value as part of the natural and historic heritage.
Historic buildings
On 12 August 2014, the SAU launched an ambitious project, costing a total of 6 million euros, for the restoration of the Hippodrome's four most iconic buildings: the Grandstand, the Small Stand, the Weighing Building and the Judges' Tower. The restored buildings were delivered in early 2016 and inaugurated in mid-September 2016.
Development of the site
To organise the development of the recreational green space, the SAU has appointed a private operator, Droh!me, for a period of 15 years commencing on 1 July 2014. Droh!me was selected following a tender process at Belgian and European level, based on strict selection criteria: respect for and utilisation of the natural and architectural heritage; free access to most parts of the site; quality of proposals in recreational, educational and/or cultural terms; activities for children; the multi-seasonal character of activities; environmental project management; transport, etc.
Infrastructure
The race course infrastructure (drainage system, water and energy supply etc.) also requires comprehensive modernisation in view of its age, related to the long history of the course. The origins of the Hippodrome date back to 1875; the Grandstand and Small Stand were put up in 1878; and the Weighing Building and the Great Stables were built around 1900. Since that time, the infrastructure has not been modernised, and is now obsolete. In September 2016, the SAU therefore launched a tender for the selection of an engineering firm to oversee the process of making this infrastructure fully functional for the redeployment of the site. The work will start in 2021.
Updated: 22.08.2022